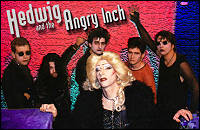 The Firehouse Theatre continues its tradition of producing work that any other venue in Richmond would turn down as too controversial and disturbing with its Oct. 25-Nov. 11 production of Hedwig and the Angry Inch, an off-Broadway rock musical starring Kirk Lawrence. If you like theatre, if you like sarcasm and biting double entendre, if gender bending existential themes appeal to you, if you love a rollicking good time, don't miss this show.

John Cameron Mitchell (book) and Stephen Trask (music and lyrics) collaborated to bring this highly original play to the stage and to film. The film, which won the Audience Award at the Sundance Festival, is quickly becoming a cult classic.

No wonder.

In short, Hedwig is the story of the divided self desperately trying to fuse with the other half to become whole. Hansel Schmidt was "born on the other side of a town ripped in two." When he meets an American GI, he undergoes a sex change, becoming Hedwig, so she can come to America as his wife. Instead of changed, Hedwig is butchered, left with only an angry inch, neither wholly male nor female. Her GI leaves her in Kansas where she takes up with Tommy Gnosis, who she mentors into rock stardom. He too disses her, and she falls into second-rate status as a rocker and a dysfunctional marriage with the drag queen Yitzhak. In the end, however, the whole mess seems to work out for the best.

The Firehouse production delivers a riveting show at times. At the end of the play on opening night, the crowd immediately leapt to its feet with a thunderous ovation. The catharsis was palpable.

Parts of the show were a bit uneven, however. Lawrence seemed to have difficulty pulling the audience under his spell, especially early on. It's a tall order, for he is almost the sole center of our attention for the full ninety minutes of this one act rock opera. And he was unable to completely break through the reserve of Richmond audiences for the sing-alongs. Jill Bari Steinberg (Yitzhak) sings beautifully at times, and off key at other times, with a terrible rendition of "I Will Always Love You." No matter, bad cheese is part of the point. Lawrence's own voice is not strong, nor memorable enough for the role, but he brings an unquestionable passion to Hedwig.

Special kudos to Daniel Ruth (costume designer), Elizabeth Toothman (costume construction) and especially to Beuregard Rue Marie for his excellent chalk drawings used as part of a slide show projected onto the back of the stage. Unfortunately poor sound quality - you can't understand what is being said or sung at crucial points - frustrates the audience in places.

The Firehouse was packed for opening night, and I expect it will be for every performance. The power of the story and the music easily compensate for the few deficiencies in this production. While Lawrence had some trouble getting started, and his drinking breaks were often distracting, his ad libs, the many Richmond references ("I've heard of Shockoe Bottom, but I'm looking for the Shockoe Top"), and the clear sense that Lawrence has lived for this role, may make you fall in love with the somewhat grotesque, often bitter, but ultimately endearing Hedwig.