me with ed kranepool of the new york mets
« click on thumbnail to view picture »
click here if the mets link above is not working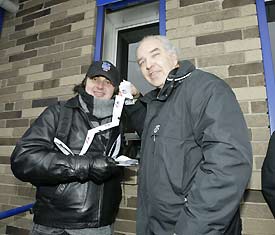 me with ed kranepool
(photo: marc s. levine/ny mets)
as you may know from knowing me personally or from browsing this site, kirk and i are huge new york mets fans. we go to as many games as possible, and, not being the richest of people (sorry, golddiggers!), we sit in the upper deck of shea stadium–the cheap seats–for most of the games.
that doesn't stop us, however, from trying to get the best of the cheap seats. along those lines, it's our yearly plan of attack to get tickets for as many games as we can afford on the first day they are available. mets fans know that the best way to get those tickets is to line up at shea on that day, as early as possible, and buy them on site. this year, the magic day was sunday, february 16.
the ticket windows open at 9:00am, but of course you must get there earlier than that. a few years of experimentation has yielded the time with the best discomfort-to-success-ratio: 6:00am. earlier and you are wasting your time, as very few people are ahead of you; later and everyone is there and you are wasting your time because you will most probably not get mets-yankees, opening day, or fireworks night tickets, all of which are, of course, the holy grail. in addition to getting those games, we get as many other games as we can; all of our seats are in the upper deck, section 1 or 2 (the center behind home plate) row c (any lower and you watch the game through the people walking in front of you) on the aisle (legroom, legroom, legroom.)
i arrived this year at 5:45am, making me about number 175 in line; it was a balmy 9 degrees fahrenheit with the wind chill below zero. did i mention that you wait in line outside?
fortunately, the camaraderie of the fans in line makes the time pass somewhat quickly, although this year the main topic of conversation was «how numb are your fingers and toes?» standing on cold concrete for 6 hours pretty much sucks out any warmth you may have in your body, no matter how many pairs of socks and clothing layers you wear. i did get a free hockey puck from dunkin donuts; it started life as a donut but was a bit more frozen by the time it got to me.
i wound around the lines, finally arriving at the ticket window at 10:50am. it takes a while to process ticket orders, mine especially, even though it's all written out and organized as much as possible. just as i was signing the charge slip and getting my tickets, i heard a cheer arise from the crowd…«eddie! eddie! eddie!»
i looked over and saw ed kranepool standing about 10 feet away. for non-mets fans, let me explain. this is somewhat akin to spotting the dalai lama walking a street in lhasa during your tibetan vacation. ed kranepool is the longest-tenured met and was a member of the miracle mets of 1969, the team that, against all odds, won the world series.
i watched him shake hands with fans in line, and he turned my way just as i was getting my tickets. he bellowed, «look how many tickets this guy is getting! here's a real fan–i want my picture with him!» he bolted toward me, grabbed the tickets and strung them out between us, and the camera flash started its rapid fire for 10 seconds or so. afterwards, we shook hands and i thanked him for coming out to support the fans. he said something like «you guys are amazing»–to be perfectly honest, it was such a blur that i'm not sure.
i am sure that, on reflection, i have a great deal of respect for someone who would come out in that weather just to lift our spirits a bit. just getting to see him was great, and if that had been all that had happened, it would have been a great memory. meeting him, getting a picture taken, and having that picture published on the mets website was all icing on the cake. or more accurately given the temperature, icicles.