friday, september 21 – one of the best nights of my life
with my man, baseball and liza minnelli (not minelli) all together
« new york, new york – it's her song again »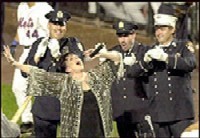 sometimes it all just comes together, and friday september 21 it did.
four of my favorite things in life are kirk (no surprise there!), baseball, my country (yes i'm a patriotic fag!) and liza minnelli (not minelli). i've loved baseball since i was a kid, and although i never played on a team, i love watching the game. it's the perfect sport, and if you don't understand my obsession, spend a rainy afternoon watching ken burns' "baseball" series that aired on pbs a few years ago. i love my country, even though i don't always agree with the assholes sometimes in control. and kirk, well that goes without saying.
of course, no self-respecting gay man would go without a diva or two in his life. and, cliched though it may be, i'm no exception. i have a whole list of faves…judy…ani difranco…kd…ella…but top of the list is liza. (sorry, babs fans…not a fave!)
friday, september 21 marked the return of baseball to new york after the tragic events of september 11. i was glad to have bought tickets for this game at the beginning of the season…it's been rough here in new york; the communal feeling and the ceremony before the game (members of the nypd and fdny, a bagpipe band playing amazing grace, diana ross singing god bless america, and marc anthony singing the national anthem) helped people take a small step toward starting the healing process.
the game itself was important to the mets season and was very close – they were, in fact, behind at the seventh inning stretch. then, out she came. total liza, with that inimitable voice greeting us all ("i'm so happy to be here…i'm soooooooo excited!") before launching into the song that she introduced (that's right, frank fans!) – new york, new york. her famous energy and enthusiasm was instantly and totally infectious. the stadium atmosphere became electric as everyone, and i mean everyone, sang along, cheered, clapped, yelled, and went crazy. liza, recent illnesses and weight problems notwithstanding, looked great and sounded amazing, her voice strong, clear and expressive, singing lyrics that were frighteningly appropriate as if written for the occasion.
i've been at shea many times for many important moments, including their pennant win last year, and i don't think i've ever seen people so uniformly cheering with total abandonment. it was as if, having been so reverent and subdued for so long, we were reminded that we should celebrate that undefinable and quintessential thing that is this city, the city that will come through. it was, for liza, a career moment, one that saw her reclaim the song that had been somewhat appropriated by frank sinatra. for new yorkers in attendance, the moment that you knew that life and this city could be great again.
what followed would have been rejected as hackneyed in a hollywood script. mike piazza hit a two run homer, giving them the lead and eventually the win. no one can tell me that the energy didn't carry over.
so, a perfect night in the city i love, with the man i love, with the diva i love above all others, in the country i love. a night when so many of the paths of my life converged. does it get better than this?